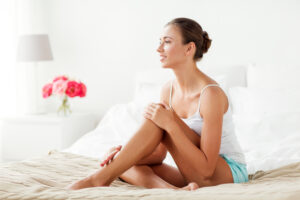 As a female plastic surgeon, Dr. Lori Polacek understands that women often have unique concerns that require highly professional and discreet care. For those suffering from intimate health and wellness concerns, Dr. Polacek is proud to offer CO2RE® Intima vaginal rejuvenation. In approximately 10 to 15 minutes, this advanced CO2 technology can resurface the vulvar, labial, and vaginal tissues, providing a wide range of benefits.
Many women have discovered the potential of the CO2RE® Intima procedure, but some are unsure about whether it is right for them due to common misconceptions. Dr. Polacek is debunking these myths to help educate patients by highlighting them below
Vaginal rejuvenation is only cosmetic and doesn't offer functional benefits. In addition to improving cosmetic concerns like changes in skin pigmentation, the CO2RE® Intima procedure can alleviate side effects of childbirth, menopause, and aging—such as dryness, itching, and lax tissue.
Vaginal rejuvenation is only for those who have had kids. Although many women who seek our CO2RE® Intima treatment want to improve issues resulting from childbearing, the procedure is ideal for women of all backgrounds, offering numerous benefits caused by the natural aging process.
Vaginal rejuvenation will be painful. Our team is committed to helping patients remain comfortable during treatment, which is why we are thrilled to offer the minimally invasive CO2RE® Intima procedure. During treatment, patients typically notice mild discomfort, at most. Sensations of slight pressure and tingling are normal but very tolerable.
Vaginal rejuvenation is only for older women. A woman's vaginal health and function can be affected at any age, though it is common to have more concerns during and after menopause. Candidacy for CO2RE® Intima will ultimately be determined during a private consultation.
Vaginal rejuvenation only treats the external genitalia. CO2RE® Intima is an innovative system that uses specially designed handpieces to treat not only the external genitalia, but also the vaginal canal and its opening.
If you would like more information about vaginal rejuvenation, such as whether it can help address your intimate concerns, please don't hesitate to contact the Polacek Center for Plastic Surgery to schedule your personal consultation.