Vivace™ is the newest form of microneedling with radio frequency (RF) cleared by the FDA. The minimally invasive cosmetic treatment works by creating microscopic channels deep into the skin followed by the delivery of RF thermal energy. This stimulates the production of collagen as the body repairs itself, providing a contouring and tightening effect in areas like the face, neck, hands, and body. Fine lines and wrinkles are also reduced, creating a smoother, more rejuvenated appearance.
What Are the Benefits of Vivace™ Microneedling?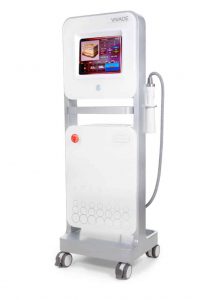 Most skin types and colors can benefit from Vivace™ microneedling. The RF energy provides heat that stimulates collagen production leading to tighter, younger-looking skin. RF combined with microneedling has given patients improved results over more painful traditional microneedling treatments. With Vivace™ microneedling, patients can expect a virtually pain-free treatment with no downtime. In addition, the Vivace™ procedure produces quick results as it works to do the following:
Smooth wrinkles and fine lines
Tighten lax skin on the face, neck, and body
Reduce pore size
Provide more even skin tone and texture
What Does the Vivace™ Microneedling Treatment Involve?
The Vivace™ treatment process is customized to each patient's needs; this includes the energy level, needle depth, and RF time. About 30 to 45 minutes before your treatment, a numbing cream will be applied. Once this topical anesthetic has taken effect, the Vivace™ handpiece will be carefully guided over the treatment area. Sterile microneedles will create micro-channels into the skin's dermis, which then deliver RF energy into the skin, stimulating your body's healing response. The actual treatment will take about 45 minutes. After the target area has been treated, your skin will be cleansed, and a soothing cream will be applied.
Does Vivace™ Microneedling Hurt?
Testimonials from patients describe the procedure as comfortable to virtually pain-free. After your face is numbed, the treatment will feel like light pressure, with an occasional light pinching feeling.
What Can I Expect in My Vivace™ Microneedling Recovery?
Microchannels created by the Vivace™ treatment remain open for four to six hours, providing time to supplement the skin with recovery protocols and serums to create optimal results. After that time frame you will have little to no indication of having treatment earlier in the day. We suggest waiting at least six hours before applying makeup.
Following the recommended post-treatment protocol is important for best results. This will include hyaluronic acid and growth factors with other customized skin care products.
How Long Do Vivace™ Results Last?
Patients can typically see their results immediately after their Vivace™ treatment, and they will continue to improve with time as more collagen and elastin are gradually produced. It will take three months to see your final results due to increased collagen regeneration. Over time you will most likely prefer another series of treatments to maintain the results.
How Many Vivace™ Microneedling Treatments Will I Need?
Every patient is different in regards to the results they are able to achieve, but the collagen you produce after the treatment will be your own. Most patients find three treatments spaced one to four weeks apart provide the results they are looking for.
How Much Does Vivace™ Microneedling Cost?
The average cost of Vivace™ microneedling typically begins at $650. The total cost of treatment will vary based on each patient's custom treatment plan. Factors such as the size of the area being treated and the number of sessions involved in your treatment plan will both influence the amount you can expect to pay. Before your treatment, you will be provided with a cost estimate that details the fees associated with your procedure.