What Is Clear + Brilliant®?

Clear + Brilliant® is a fractional laser system designed to prevent and address visible signs of aging caused by time and environmental factors. The system was developed by Solta Medical®, the maker of other advanced technologies like Fraxel® Dual Laser Resurfacing. During a Clear + Brilliant® treatment, the laser targets the outer skin layers to effectively minimize the appearance of fine lines and pore size, while creating a more even skin tone and texture. The non-invasive procedure can be performed in a quick office visit with little to no downtime. The Polacek Center for Plastic Surgery is the first and only practice in Rhode Island to offer the Clear + Brilliant® treatment.
Learn more about the exciting Clear + Brilliant® system by reading the sections below. If you would like to schedule a consultation, contact our office!
What Does Clear + Brilliant® Laser Treatment Involve?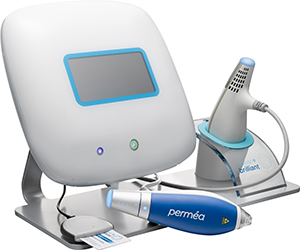 A typical Clear + Brilliant® treatment session lasts about 30 minutes total. The target area will first be numbed with a topical cream to ensure you remain comfortable throughout the duration of your appointment. The laser handpiece is then guided across the area for approximately 15 to 20 minutes. During this time, millions of tiny treatment zones are created—a process that stimulates the body to replace the damaged skin with healthier tissue. For optimal treatment results, the Clear + Brilliant® technology utilizes Intelligent Optical Tracking™, a patented system that ensures an even treatment across the target area. 
What Can I Expect in My Clear + Brilliant® Results? 
Results from Clear + Brilliant® will vary for each patient, but you should see an immediate glow when you leave our office. Over the next week or two, your skin should continue to improve, feeling softer and looking brighter and more even. The rejuvenating results from Clear + Brilliant® can typically last for several months, depending on your age, skin condition, and skin care regimen.
 
How Many Clear + Brilliant® Treatments Will I Need?
Most patients are recommended to undergo a series of Clear + Brilliant® treatments to get the best possible results. Many men and women can benefit from 4 to 6 sessions, while others regularly come in for a Clear + Brilliant® treatment to maintain their youthful appearance. To further enhance your overall facial appearance, you may be interested in complementary procedures, such as dermal fillers and BOTOX® Cosmetic.
How Much Does Clear + Brilliant® Cost?
The average cost of a Clear + Brilliant® treatment is $425. Financing options are available if you would like to divide your treatment cost into smaller, monthly payments through CareCredit®. Our practice recommends 3 treatments 3-6 weeks apart for the best results.