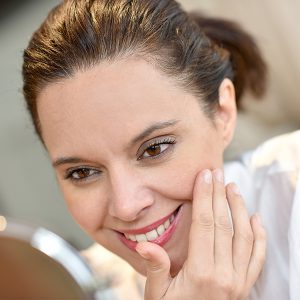 In addition to the in-office treatments and procedures we perform, the Polacek Center for Plastic Surgery in Providence, Rhode Island can design a skin care regimen for you using the advanced skin care products we offer. After all, the day to day care of your skin has a great impact on its overall health and appearance, and we believe in using only the best products available.
To learn more about at-home skin care programs, request a consultation online or call us at (401) 331-0202 and we will schedule your appointment.
Achieving Beautiful Skin
All patients new to our skin care programs receive a complimentary skin evaluation and a discount on your first in office procedure. Through this evaluation, we will determine your unique skin care needs and design an at-home protocol using the following product lines:
SkinCeuticals® – This comprehensive line of science-backed products aims to not only restore youthful, beautiful skin, but to improve skin health. The program is designed to prevent future damage, protect your skin, and correct any existing damage.
Obagi Nu Derm® – The sun, hormonal changes, environmental pollutants and stress can all cause the skin to look prematurely aged. The Obagi Nu Derm® system is designed to target skin damage at the cellular level, which results in improved skin health and appearance, as well as reduction of future damage. This system benefits patients with facial aging, hyperpigmentation, melasma, acne and rosacea.
MDSolarSciences® – https://www.mdsolarsciences.com/
Colorescience® – https://www.colorescience.com/
Revision® Skincare – http://revisionskincare.com/
These superior-quality products achieve results on their own, and serve to enhance other treatments such as CO2 laser resurfacing. Under the supervision of Dr. Polacek, the right skin care regimen can take years off of your appearance and give you the healthy skin you've always wanted.