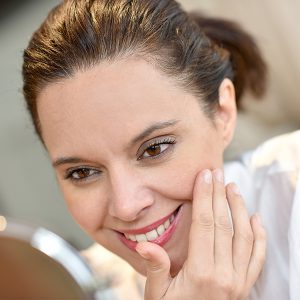 In addition to the in-office treatments and procedures we perform, the Polacek Center for Plastic Surgery can design a skin care regimen for you using the advanced skin care products we offer. After all, the day-to-day care of your skin has a great impact on its overall health and appearance, and we believe in using only the best products available.
To learn more about at-home skin care programs, request a consultation online or call us at (401) 200-6265 and we will schedule your appointment.
Achieving Beautiful Skin with Medical-Grade Skin Care
All patients new to our skin care programs can schedule a skin evaluation with our medical aesthetician. Through this evaluation, we will determine your unique skin care needs and design an at-home protocol using the following professional-grade product lines:
SkinCeuticals®
SkinCeuticals® is a comprehensive line of science-backed products that aims to not only restore youthful, beautiful skin, but to improve skin health. The program is designed to prevent future damage, protect your skin, and correct any existing damage. Our team offers SkinCeuticals® Body Tightening Concentrate, A.G.E. Interrupter, H.A. Intensifier, C E FERULIC®, and more to help you achieve optimal results.
SkinMedica®
SkinMedica® utilizes scientifically proven ingredients to prevent and treat signs of aging. Available only through authorized physicians, the SkinMedica® skin care line includes a wide range of products developed with your long-term skin health in mind. Popular SkinMedica® products offered at our practice are the TNS Eye Repair®, TNS Recovery Complex®, and HA5® Smooth and Plump Lip System.
Colorescience®
Colorescience® is chemical-free skin care line that uses natural minerals, antioxidants, and botanicals to rejuvenate the skin. The products are designed to prevent skin damage typically caused by UV rays, pollution, and free radicals. Our team offers a variety of Colorescience® products, including the Mineral Corrector Palette, Hydrating Mist Mini, and SPF 50 for fair, medium, and tan skin tones.
Obagi® Medical
The sun, hormonal changes, environmental pollutants, and stress can all cause the skin to look prematurely aged. Obagi® Medical is a medical-grade skin care line designed to target skin damage at the cellular level, which results in improved skin health and appearance, as well as reduction of future damage. This line benefits patients with facial aging, hyperpigmentation, melasma, acne, and rosacea. Our team provides genuine Obagi® products available only through authorized medical practices (this is different from what is sold online without the drug that provides complete correction). We offer multiple systems which are ALL medical-grade products under Obagi® Medical, including Nu-Derm®, ELASTIderm®, and CLENZIderm® MD™.
Revision Skincare®
Revision Skincare® products have been validated by doctors and are sold exclusively through skin care professionals. The product line involves proprietary formulations to ensure patients receive the best possible results for their needs. Revision Skincare® products at our practice include Nectifirm®, Nectifirm® ADVANCED, and more.
MDSolarSciences™
MDSolarSciences™ is known for its advanced sun protection formulas, which are lightweight and gentle on the skin. The mineral-based products are composed of clean ingredients that are chemical-free, reef-safe, and cruelty-free. They are designed for all skin types and tones, helping make daily sunscreen use an effortless way to protect against sun damage and achieve long-term anti-aging benefits. Our patients have access to multiple SPF products, including SPF 50 Light-Medium, SPF 50 Medium-Dark, and Mineral Tinted Crème SPF 30.
TEOXANE® Cosmeceuticals
TEOXANE® products, a skin care line from Switzerland, uses a specially formulated version of hyaluronic acid that can effectively hydrate the skin all day or night. This medical-grade skin care line addresses dull, aging skin to produce a refreshed and more youthful-looking complexion. Through our TEOXANE® skin care products, you can look forward to softer, healthier skin.
TIZO®
TIZO®, which stands for Titanium Zinc Oxide, is a skin care line using only FDA-approved sunscreen filters. The professional products work to prevent and slow signs of aging, while helping the skin maintain its natural moisture through a time-released system. TIZO® sunscreens are free of chemicals, oils, preservatives, and parabens.
These superior-quality products achieve results on their own, and serve to enhance other treatments such as Clear + Brilliant®, Fraxel®, NORDLYS™, and CO2 laser resurfacing. To help ensure continual correction for your skin concerns, we ship our medical-grade skin care products anywhere within the U.S., helping you avoid any disruption in your progress. Under the supervision of Dr. Polacek and Beth Walker, the right skin care regimen can take years off of your appearance and give you the healthy skin you've always wanted.