If you've ever wished you could have "new" skin, carbon dioxide (CO2) laser resurfacing may be just what you're looking for. At the Polacek Center for Plastic Surgery, we offer CO2 laser skin resurfacing to help improve common concerns such as age spots, sun damage, and fine lines and wrinkles. Every treatment is customized to the patient's unique concerns to help them achieve the best possible results. If you would like to learn more about CO2 laser resurfacing, request a consultation online or call us at (401) 331-0202 and we will schedule your appointment.
What Is CO2 Laser Resurfacing?
CO2 laser resurfacing can rejuvenate your skin by removing the outermost layers as well as firming up the underlying collagen. Using a pulsed CO2 laser, the ablative procedure can achieve remarkable results for many patients. For those who want an effective, non-ablative option, we offer Fraxel® Dual non-ablative laser skin rejuvenation.
The CO2 laser is safe and is less likely to cause unwanted side effects (such as scarring or skin discoloration) than other skin resurfacing options at the Polacek Center for Plastic Surgery. We only treat the layers of skin necessary to correct the skin imperfections, leaving underlying tissues preserved. This helps minimize discomfort as well as recovery time, while still achieving noticeable results.
What Are the Benefits of CO2 Laser Skin Resurfacing?
The CO2 laser is highly effective in treating common concerns related to the skin's tone and texture. As an ablative treatment, our CO2 technology is able to treat deeper issues and provide lasting results. Specific skin concerns that can typically be treated with CO2 laser skin resurfacing include the following:
Lines and wrinkles
Scars
Sun damage and discoloration
In addition to renewing the surface of the skin, the laser can actually stimulate and tighten the underlying collagen. This means that your skin will not only be smoother and more evenly pigmented, but it will also be firmer and more youthful.
What Does the CO2 Laser Resurfacing Treatment Involve?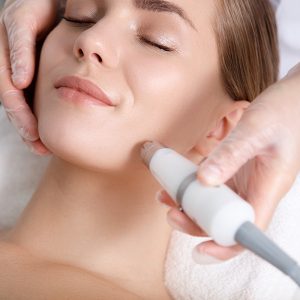 CO2 laser resurfacing of the face is performed in our Chapel View office with a topical anesthetic. The procedure usually takes about an hour. The extremely quick, intense pulses of laser energy emitted by the laser vaporize the targeted skin cells. Very precise settings are used to guide the depth of penetration and the width and pattern of the treatment area. To achieve optimal skin improvement, Dr. Polacek may recommend a series of skin resurfacing treatments to effectively address your concerns.
What Can I Expect After CO2 Laser Resurfacing?
The recovery period for laser resurfacing depends on the area treated and the depth of penetration. Generally, you can expect to experience significant redness and peeling for 7 to 10 days.
Wrinkle reduction results will appear fairly soon after your skin heals, but will continue to emerge over several months. Changes in skin texture and coloration will emerge as the pinkness in your skin fades. Although the recovery is longer than with more superficial resurfacing treatments, results from laser resurfacing are typically more significant and lasting.
Dr. Polacek and her staff will review the pros, cons, and risks of this treatment, and help you to decide if CO2 laser skin resurfacing can help you to achieve the results you want. If you choose laser resurfacing, she will discuss pre- and post-procedure care in detail so that you are fully prepared for your treatment.
Dr. Polacek is very pleasant and makes her patients feel very comfortable. In addition, her staff is very welcoming. If as a patient I were to give Dr. Polacek a grade . . . it would be an A+.
Judith. C
How Much Does CO2 Laser Resurfacing Cost?
The average cost of laser skin resurfacing using an ablative laser, like our CO2 technology, is about $3,000 per session. The amount you can expect to pay may be more or less, depending on a number of factors specific to your treatment. Our team will provide you with a personalized quote to help you budget for your treatment. If you would like to take advantage of plastic surgery financing to pay for your laser resurfacing procedure over the course of several months, a member of our staff would be happy to help you get started.