What Is CoolSculpting®?

CoolSculpting® is a non-surgical body sculpting procedure that can eliminate stubborn areas of fat that have not responded to diet and exercise. The process is FDA-cleared to help men and women reduce fat in common trouble areas, such as the abdomen, flanks, underneath the chin, thighs, and upper arms. CoolSculpting® works through an advanced cooling system, which eliminates excess fat cells with minimal discomfort and little to no downtime.
Our board-certified plastic surgeon, Dr. Lori Polacek, our CoolSculpting® specialist, Alexis Collins, and our experienced team are committed to your safety, which is why the CoolSculpting® procedure will be fully customized to your comfort and contouring needs. During your consultation, you will be evaluated to determine if CoolSculpting® is the most beneficial option for your aesthetic goals or if an alternative option, like KYBELLA®, is more appropriate. If you are considered a good candidate for CoolSculpting®, your treatment plan will be tailored to ensure the best possible outcome, producing the flatter, more contoured physique you desire.
What Does the CoolSculpting® Procedure Involve?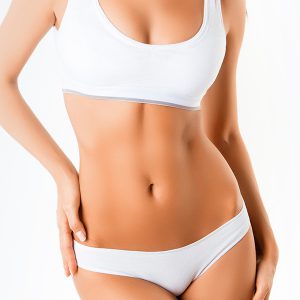 Each CoolSculpting® session can typically be completed within 35 to 60 minutes, allowing you to return to your normal routine after a relatively short treatment session. To begin the process, a gel pad and the CoolSculpting® applicator will be placed on the area being treated. Suction is then applied and the controlled cooling begins. For the first five to 10 minutes, you may experience an intense cold sensation along with mild pinching or tugging. This will quickly subside as the cooling energy causes the tissue to go numb. Since the CoolSculpting® technology is precisely set to target and destroy excess fat cells, the surrounding tissue remains unharmed.
At the end of your treatment, the device will be removed and your tissue will be massaged for about two to three minutes to help break up the damaged fat cells. Once this process is complete, you can resume your daily schedule immediately without the need for a recovery period.
When Will I See My CoolSculpting® Results?
Beginning results from CoolSculpting® can often be seen at three weeks, but it can take up to four to six months to fully develop. The contouring effects of your treatment will gradually occur as the damaged fat cells are removed from the body via metabolic processes.
Since this fatty tissue is completely removed, it cannot return in the future. However, the remaining cells can grow or decrease in size with weight fluctuations, which is why Dr. Polacek advises patients to follow a healthy lifestyle to maintain their positive results long-term.
To achieve optimal improvement, you may require a series of CoolSculpting® sessions, which will be discussed in your initial consultation and adjusted based on your progress with each treatment.
The results were better than I had even anticipated. I received the subtle enhancement that I was hoping for and a great boost in confidence! I will definitely return to Dr. Polacek for other procedures in the future.
Emily. Z
Are There Any Side Effects Associated with CoolSculpting®?
During the CoolSculpting® procedure, you may notice an intense coldness as well as a sensation of stinging or cramping in the treatment area. As the area goes numb, these side effects should quickly fade. Throughout the treatment process, sensors within the CoolSculpting® machine will monitor the temperature of the target area, ensuring it does not get too cold and damage nearby tissues.
Following your CoolSculpting® session, you may have temporary redness, bruising, firmness, and sensitivity, all of which typically resolve within the first few days or weeks. Our team will go over the possible side effects and risks of CoolSculpting® to ensure you are well-informed, feel confident about your procedure, and know what to expect during and after treatment.
How Much Does CoolSculpting® Cost?
The cost of CoolSculpting® is highly personalized to each individual and their contouring needs. On average, CoolSculpting® costs vary depending on how many applicators are needed. The costs involved may also vary based on the amount of fat reduction you desire and how many areas you would like to have treated. Our staff will provide you with a cost estimate at your consultation so you can plan accordingly and decide if the solution is right for you.