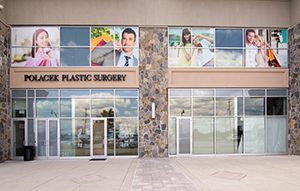 Dr. Lori Polacek and her staff believe that helping patients to feel better about themselves is one of the most rewarding aspects of their work. At our Providence practice, we are able to truly customize your treatment, as we offer a full range of non-surgical procedures. At the Polacek Center for Plastic Surgery, your satisfaction is our top priority. During your personalized consultation with us, we will determine which treatment will help you to look more refreshed and rejuvenated.
For more information about specific treatments, visit the following pages:
Injectables
Cosmetic injectables can smooth fine lines and wrinkles while improving facial contours for a more youthful appearance. Our team offers the popular neurotoxin known as BOTOX® Cosmetic as well as the JUVÉDERM® collection of fillers.
Laser Treatments
Through our state-of-the-art laser technology, patients can revitalize their skin and address common concerns like uneven skin tone and texture. Our team performs a variety of laser treatments to help you achieve your aesthetic goals.
Vivace™ Microneedling
Vivace™ Microneedling is a non-surgical treatment that creates microchannels in the skin combined with radiofrequency energy to stimulate collagen production. This process effectively tightens lax skin on the face, hands, neck and other areas of the body for a smoother appearance.
CoolSculpting®
Utilizing the innovative technique known as cryolipolysis, CoolSculpting® delivers controlled cooling energy to reduce excess fat cells in a variety of stubborn areas. Common regions treated by CoolSculpting® include the upper arms, neck, flanks, back and bra fat, abdomen, thighs, and beneath the buttocks.
Chemical Peels
If you feel that your skin has started to look dull, damaged, or aged, you may be a good candidate for one of our medical-grade chemical peels. This treatment option involves the use of a chemical solution to gradually remove the outer layers of damaged skin, revealing a healthier, more vibrant complexion.
Skin Care Products
One of the best ways for you to take care of your skin is through a personalized daily skin care regimen. Our team can help you design a daily regimen utilizing our result-driven skin care products that not only treat concerns like scarring and dark spots, but help to prevent future damage.
If you are considering a non-surgical aesthetic treatment, request a consultation with Dr. Polacek or a member of our amazing team. Call us at (401) 331-0202 and we will discuss the best approach to address your specific needs. To discover solutions designed for your unique concerns, please visit our page dedicated to treatments for cosmetic concerns.