Chemical peels are a popular skin care treatment that uses a chemical solution to gently remove the outer layers of skin. Typically performed as a rejuvenating facial treatment, chemical peels can effectively improve dull, aged, or damaged skin to provide a brighter, healthier appearance. The peels available at Polacek Center for Plastic Surgery are very different from the typical "facials" people are familiar with. All of our chemical peels are composed of pharmaceutical-grade ingredients that provide the best possible results.
How Do Chemical Peels Work?
To perform a chemical peel treatment, our licensed medical aesthetician, Beth Walker, will first cleanse your face before applying the carefully selected chemical solution. In most cases, this will be left on the skin for a few minutes before being washed off. In the following days, you can expect some redness and peeling as the healthier skin underneath is revealed. After this initial period of dull skin sloughing off, you should begin to notice a brighter facial appearance with a more even tone and texture. You may be recommended certain skin care products to help you prolong your results.
Patient Results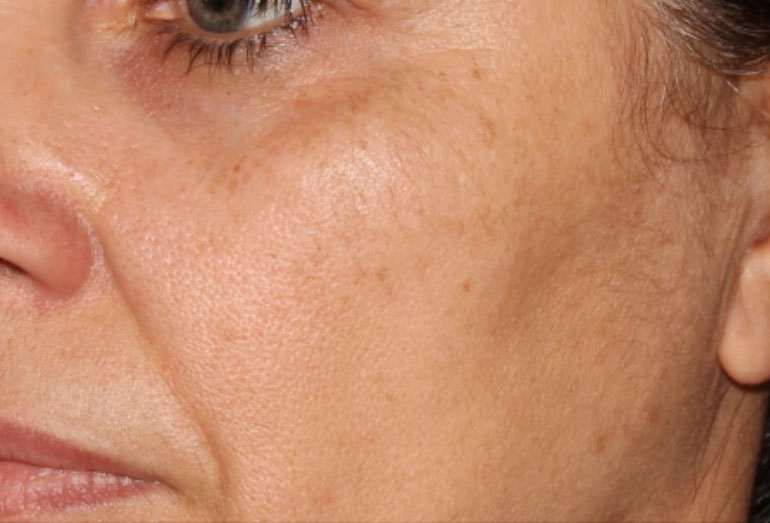 Before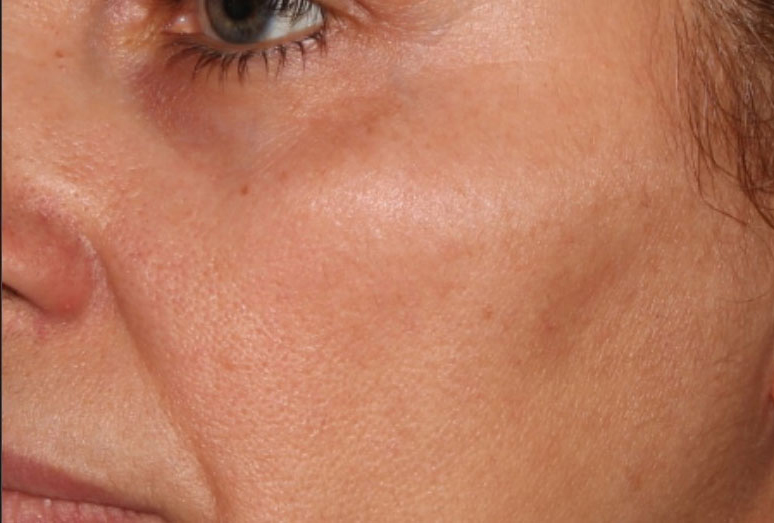 After
What Are the Benefits of Chemical Peels?
The medical-grade chemical peels at our practice help patients see noticeable improvement in their facial skin. As with all aesthetic services she provides, Beth is committed to helping patients achieve beautiful, glowing results from their chemical peel treatments. Since every peel is customized to the patient's unique skin concerns, benefits may vary for each individual. In general, our chemical peels can address the following skin concerns:
Acne, oily skin, blackheads
Some scars
Fine lines and wrinkles
Rough skin texture
Uneven skin pigmentation
Sun damage
Dry skin
Precancerous skin cells
Rosacea
What Types of Chemical Peels Are Available?
Our practice exclusively offers SkinMedica® peel systems, which can produce visible results for patients of all ages and skin types. Beth customizes every peel and its treatment process according to the specific needs of the patient. To learn more about the different types of chemical peels available at our office, see below.
SkinMedica Illuminize Peel®
The Illuminize Peel® is designed for mild skin imperfections. Often referred to as the "party peel," this type is typically well-tolerated and has no downtime, allowing patients to return to their normal activities with little to no side effects. The Illuminize Peel® addresses impurities in the skin while lightly exfoliating damaged or rough skin and improving light discoloration.
SkinMedica Vitalize Peel®
The Vitalize Peel® is ideal for mild to moderate skin imperfections. This well-tolerated peel is appropriate for all skin types and can be customized to the patient's needs by adjusting the amount of shedding it promotes. The Vitalize Peel® reduces visible signs of aging, including fine lines and wrinkles; dissolves dirt, oil, and debris; and removes dry, damaged skin. As it enhances skin texture, patients can enjoy smoother, softer skin.
I had an appointment today at The Polacek Center with Beth for a vitalize peel. She has to be the best esthetician ever! I have been a very happy and satisfied client of hers for a few years. Having very fair and sensitive skin, the appearance of broken blood vessels on the sides of my nose became very noticeable. I asked what could be done. She said she could fix that issue today. A "small bruise might appear for a bit but would resolve quickly."

I just laid back and put myself in her very capable hands. I expected some redness and a bruise but those blood vessels disappeared!!!
SkinMedica Rejuvenize Peel™
The Rejuvenize Peel™ is intended for moderate to severe skin imperfections. Although it uses stronger chemicals, the peel is still tolerated well. It targets more severe sun damage with deep wrinkles and age/dark spots. The Rejuvenize Peel™ is a faster way to achieve a healthier, more radiant, and more youthful appearance as it brightens skin and improves its color and clarity.
I have been seeing Dr. Polacek for five years now and I refer her to all my friends when they inquire as to how I preserve my youthful appearance.
Ann. S
How Much Do Chemical Peels Cost?
Pricing for chemical peels at our practice typically ranges from $150 to $210. The total cost of your treatment will vary based on which peel you are receiving and if you are interested in purchasing a series of peels. As a non-surgical skin care solution, chemical peels prove to be a highly cost-effective way of achieving smoother, more evenly toned skin.