As we get older, underlying collagen and elastin fibers begin to break down in the skin, resulting in wrinkles. This tends to happen in areas of recurring facial expression such as the brow area, crow's feet area, or lip area. Additionally, as the skin and soft tissues begin to sag, deep folds can occur. This can be especially evident in the crease next to the nose and cheek and the lip area. For patients wanting to diminish these signs of aging, the JUVÉDERM® family of dermal fillers can be administered to fill these lines and folds.
What Is JUVÉDERM®?
JUVÉDERM® is a popular brand of hyaluronic acid (HA) fillers designed to rejuvenate the face with smooth, natural-looking results. JUVÉDERM® treatments are ideal for patients who want a quick, simple way to reduce or eliminate facial folds and lines with little to no downtime or pain. The procedure takes just about 30 minutes and provides immediate benefits. Most patients experience only minimal discomfort.

I go to see Dr. Polacek about every eight months to get some Juvederm filler. I love how it looks after about a week. Everything settles in and looks so smooth. I would definitely recommend going to her. She's the best.

sdradoptions Elaine

April 30, 2021

12345
More Reviews
What Is JUVÉDERM® Used for?
Our team offers JUVÉDERM® XC, JUVÉDERM® Ultra XC, JUVÉDERM VOLBELLA® XC, JUVÉDERM VOLLURE® XC, and JUVÉDERM VOLUMA® XC. Each formulation is specially made to treat a specific concern with the best possible outcome. Depending on your needs, Dr. Polacek may recommend one of these fillers to correct volume loss in your face, plump your lips, or smooth unwanted lines and wrinkles. JUVÉDERM® fillers have also been FDA-approved to treat under-eye hollows and enhance shallow contours. For those seeking a more complete rejuvenation, BOTOX® Cosmetic combined with JUVÉDERM® offers a way to minimize wrinkles while sculpting the face.
Is JUVÉDERM® Right for Me?
JUVÉDERM® fillers can help many patients interested in slowing down the effects of facial aging, which often include a loss of volume, fullness, and soft facial contours. Since these aesthetic injectables are derived from hyaluronic acid, a naturally occurring ingredient in the body that helps retain hydration, there is usually no risk of an adverse allergic reaction. What's more, JUVÉDERM® does not require surgery or anesthesia to rejuvenate the face. For this reason, JUVÉDERM® products can be successfully administered for patients who:
Do not smoke
Are in good general health
Are interested in a non-surgical, in-office treatment
Have a positive mindset and realistic expectations for the results
Our team will ask you about your medical history and concerns to help confirm whether JUVÉDERM® (or other injectables) is the most ideal aesthetic treatment for you. There are many formulations available to target specific areas of the face and Dr. Polacek can provide guidance on the best filler option to achieve your goals.
What Types of JUVÉDERM® Are Available?
During your consultation, Dr. Polacek will review your treatment options based on what you wish to address. She will also discuss the pros and cons of JUVÉDERM® treatment, potential risks and complications, recovery course, pre- and post-treatment instructions, and aesthetic outcomes. For more information about the types of JUVÉDERM® fillers we offer, please see the descriptions below.
JUVÉDERM® XC
JUVÉDERM® XC is used to rejuvenate the face by smoothing moderate to severe lines around the nose and mouth (also known as nasolabial folds or parentheses).
Before and After Photographs
Patient 1
This 40 year old patient underwent two treatments of injections. The first treatment consisted of one treatment of BOTOX® between the eyes and the crows feet, as well as a treatment of JUVÉDERM® in the lower face. The second treatment consisted of an additional syringe of JUVÉDERM® in the lower face 12 days later. She was very happy with the results, voicing to Dr. Polacek that she felt "10 years younger." The patient also remarked that she felt Dr. Polacek did a wonderful job of being gentle, and that the process was overall painless.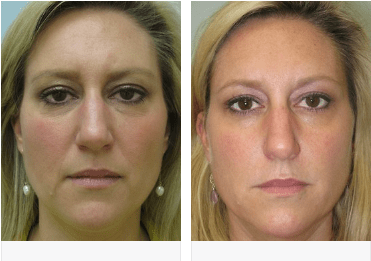 Patient 2
This patient had 4 treatments of Fraxel® as well as 2 syringes of JUVÉDERM® to the face. The second view shows the patient after undergoing only 3 treatments of Fraxel® along with the JUVÉDERM®. She is very pleased with the results.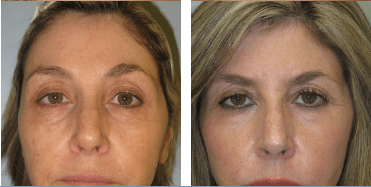 JUVÉDERM® Ultra XC
JUVÉDERM® Ultra XC is intended for plumping the lips to create a fuller, more shapely appearance. This is ideal for patients who have naturally thin lips, as well as those wanting to restore volume that has depleted over time.
JUVÉDERM VOLBELLA® XC
JUVÉDERM VOLBELLA® XC is a non-surgical method of rejuvenation as it softens the perioral lines that develop around the mouth (often referred to as smoker's lines or lipstick lines).
JUVÉDERM VOLLURE® XC
JUVÉDERM VOLLURE® XC treats moderate to severe facial wrinkles, such as the lines that extend from the sides of the nose down to the corners of the mouth (nasolabial folds).
Results from JUVÉDERM VOLLURE® XC can last up to 18 months.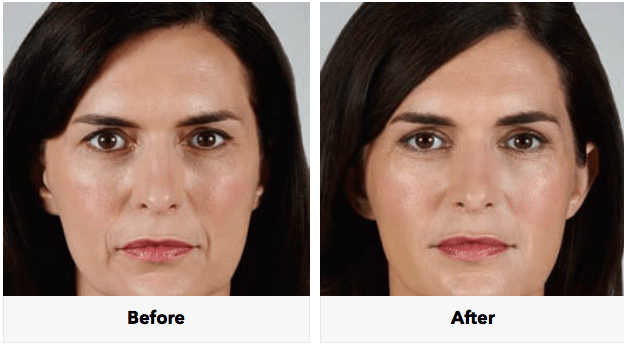 JUVÉDERM VOLUMA XC
JUVÉDERM VOLUMA® XC can effectively restore volume to the cheek area that has been lost due to the aging process. This provides a subtle lift to the midface with lasting results.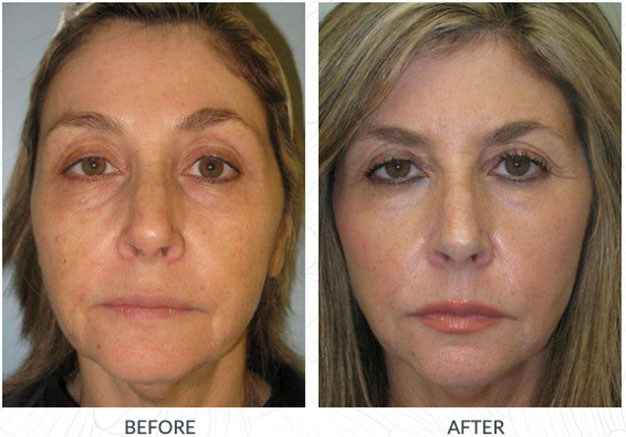 What Can I Expect During Treatment With JUVÉDERM®?
Based on a discussion of the aesthetic concerns you hope to improve, Dr. Polacek will evaluate your face and determine the most optimal areas for augmentation. The injection site(s) will then be cleansed and a local numbing agent can be applied to enhance comfort, if desired. Most patients report only mild discomfort during injections, if any, and describe the treatment as very tolerable. Actual injections only take a few minutes per site, depending on the extent of concerns you wish to treat. The chosen JUVÉDERM® filler will be carefully injected, the area will be massaged, and Dr. Polacek will then evaluate the outcome and inject additional product as necessary. The entire process can take 15 minutes to one hour depending on the nature of your goals.
Is There a Recovery Period After JUVÉDERM® Injections?
There is no significant downtime required after JUVÉDERM® injections, which is usually considered one of the chief benefits of treatment. Although a recovery period is not typically necessary, you may be advised to avoid strenuous physical activity for 24 to 48 hours. Dr. Polacek can provide more personalized guidance on aftercare based on your individual treatment. Mild to moderate swelling and bruising after treatment is considered normal and should not be a cause for concern. Thanks to Dr. Polacek's meticulous injection technique, patients generally do not experience any considerable side effects.
How Long Do JUVÉDERM® Results Last?
Though temporary, JUVÉDERM® products are known for providing long-lasting results. Results from your treatment will ultimately depend upon which injectable you receive. JUVÉDERM® XC, Ultra XC, and VOLBELLA® XC have proven to maintain their effects for up to one year, while JUVÉDERM VOLLURE® XC can last up to 18 months. JUVÉDERM VOLUMA® XC, on the other hand, can last for as long as two years. If you are interested in maintaining your results long-term, you can schedule periodic treatment touch-ups to receive additional filler.
How Much Does JUVÉDERM® Cost?
The cost of your JUVÉDERM® injections will vary based on the type of filler and how many syringes are required. Before your treatment, our team will provide you with an estimate of your total cost to ensure you know what to expect.
Was extremely pleased with both the Dr./ Staff and the Procedure. Very comforting and informative. I'm totally assured I've chosen the right Dr to put a Happy Face back on me! Highly Recommend!!
Elizabeth. H
If you would like to discuss dermal fillers with Dr. Polacek, please contact the Polacek Center for Plastic Surgery to request a consultation. We look forward to helping you find the best approach to address your specific needs.