Fullness of the neck and under the chin, also known as a "double chin," is a problem for many people. Even men and women who maintain a healthy weight can be troubled by submental fat because aging and genetics are often the major culprit for fat in this area. Unfortunately, submental fat deposits are sometimes not greatly improved by diet and exercise.
A double chin can detract from a balanced facial appearance, and make patients look older and heavier than they really are. This condition affects two-thirds of consumers according to a recent survey done by the American Society of Dermatologic Surgery. In fact, that is nearly as many as are bothered by lines and wrinkles around their eyes.
With so many people unhappy with their neck appearance, Dr. Lori Polacek is very pleased to offer KYBELLA® injections. This non-surgical cosmetic treatment can reduce the amount of fatty tissue that is leading to a double chin, helping patients achieve the slimmer neck profile they desire.
What Is KYBELLA®?
KYBELLA® is the first and only FDA-approved injectable to treat fat in the submental area. This non-surgical method of fat reduction works through the active ingredient deoxycholic acid, which naturally occurs in the body to metabolize dietary fat. When strategically injected into the fat beneath your chin, KYBELLA® can eliminate excess fat cells, improving the contour of the upper neck area with long-lasting results.
Am I a Candidate for KYBELLA®?
Dr. Polacek will be able to determine if you are a good candidate for the KYBELLA® double chin treatment during your consultation. Together with Dr. Polacek, you will develop a customized KYBELLA® treatment plan to address your unique needs. Dr. Polacek may recommend you combine KYBELLA® treatments with other minimally invasive skin treatments, such as Vivace™ microneedling, to achieve the look you desire. Dr. Polacek and her staff may also discuss the alternative treatment of CoolSculpting®.
What Does the KYBELLA® Treatment Involve?
Dr. Polacek can administer KYBELLA® in her office in as little as 15 minutes. A numbing agent may be used to help minimize any discomfort during treatment. To administer the KYBELLA® injections, Dr. Polacek will carefully deliver a series of small injections into the target area that has been established. Many patients achieve their desired results in two to six treatment sessions, each taking place about six to eight weeks apart.
How Long Does KYBELLA® Last?
The wonderful thing about KYBELLA® is that it is considered a permanent solution to a double chin. Once the cells are destroyed, they can no longer store or accumulate fat. Although these cells cannot regenerate, the remaining fat cells can change in size with weight fluctuations. This is why it is important to maintain your weight with a healthy lifestyle to help prolong the contouring results you achieve through KYBELLA®.
Patient Results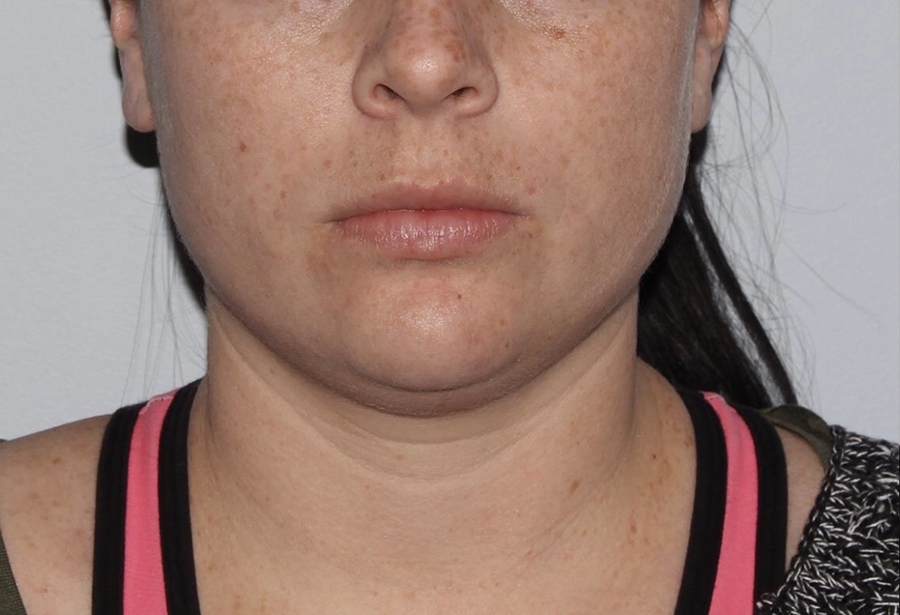 Before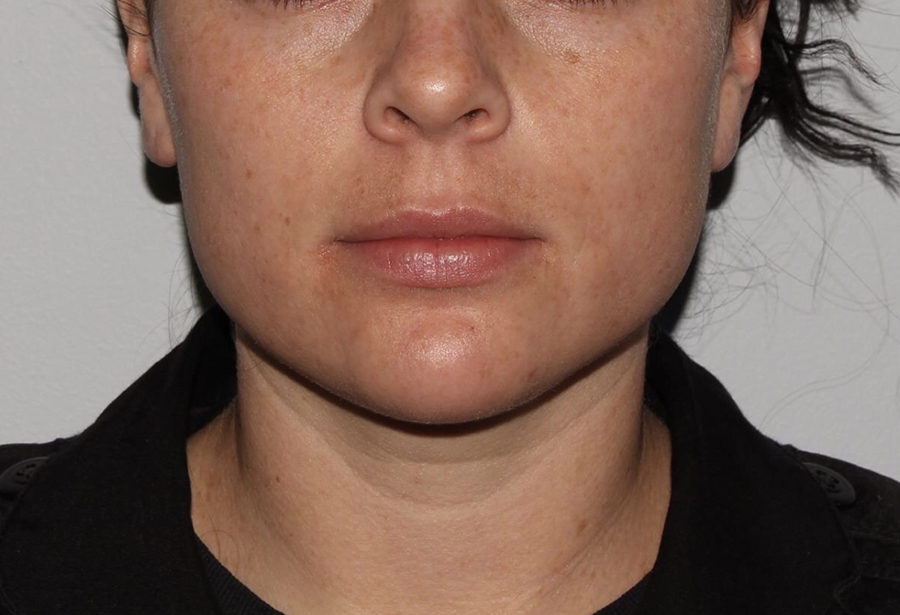 After
What Side Effects Are Associated with KYBELLA®?
As with any injectable, it is common to experience some temporary numbness, bruising, or swelling around the injection site and in the area surrounding it. These side effects should resolve soon after the procedure. More details about what you can expect after your KYBELLA® sessions will be discussed with you during your consultation.
How Much Does KYBELLA® Cost?
The cost of KYBELLA® injections will vary for each patient based on the specifics of their treatment plan. Factors that will affect your total cost include how much product is needed to address the target area and how many sessions are recommended to achieve optimal results. Our team will give you a cost quote prior to your treatment, though the total number of KYBELLA® sessions may be more or less based on how your body responds to the injections and the amount of fat reduction you desire.