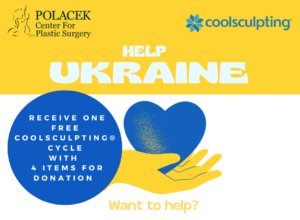 Our team at the Polacek Center for Plastic Surgery is proud to be leading relief efforts to help families and their pets in the Ukraine. For those who would like to contribute by donating emergency supplies, we are saying thank you by extending a treatment special for a limited time!
Bring four donations from the list of necessities below, and you'll receive one free CoolSculpting® cycle with the purchase of four or more cycles. (Maximum savings: two free cycles for eight or more!) Payment is required in full by June 30, 2022 for all scheduled treatment cycles.
List of Necessities
For Families:
Aspirin (or any heart medicine)
Medicine for anything that is available
Hygiene products
Feminine hygiene products
First aid products
Non-perishable food items
For Pets:
Tick pills for dogs
Cat food
For Horses*:
Senior food
Trott pellets (with vitamins)
Anti-parasite medication
*Available at tractor supply stores and amazon.com
If you have any questions, please call our office at 401-331-0202.