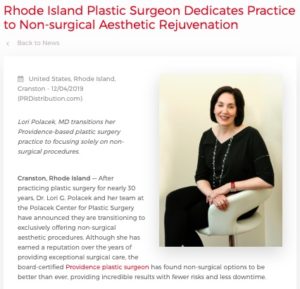 Lori Polacek, MD transitions her Providence-based plastic surgery practice to focusing solely on non-surgical procedures.
Cranston, Rhode Island — After practicing plastic surgery for nearly 30 years, Dr. Lori G. Polacek and her team at the Polacek Center for Plastic Surgery have announced they are transitioning to exclusively offering non-surgical aesthetic procedures. Although she has earned a reputation over the years of providing exceptional surgical care, the board-certified Providence plastic surgeon has found non-surgical options to be better than ever, providing incredible results with fewer risks and less downtime.
Dr. Polacek expresses that her patients are thrilled with the results they have been able to achieve with minimally invasive treatments like BOTOX® Cosmetic, dermal fillers, and laser skin care. Due to the advanced potential of these solutions, she says: "More and more [patients] tend to steer away from 'going under the knife' these days." As non-surgical aesthetic rejuvenation has continued to improve over the years, Dr. Polacek explains that most patients can still achieve beautiful transformations without the higher risks, costs, and discomfort associated with surgery.
Although the Polacek Center is no longer offering surgical procedures, Dr. Polacek emphasizes the enhanced quality of results that can be achieved by choosing a board-certified plastic surgeon for non-surgical care. Certification through the American Board of Plastic Surgery indicates a physician has undergone at least six years of specialty surgical training and upholds the highest standards of safety and care. In addition to maintaining this elite status, Dr. Polacek has spent 26 years in practice, during which time she has honed her skills and developed an eye for natural-looking rejuvenations.
With her medical background and extensive experience, Dr. Polacek can help patients address their cosmetic concerns and physical needs to achieve the best possible results—always in the least invasive way possible.
About Dr. Lori G. Polacek
Dr. Polacek first came to Rhode Island to attend Brown University for her undergraduate education. After receiving her Bachelor of Arts in Biology, she continued to Boston University School of Medicine, where she earned her Medical Degree and underwent her General Surgery residency. Dr. Polacek then completed her residency in Plastic and Reconstructive Surgery at the Lahey Clinic Medical Center in Burlington, Massachusetts. She opened her private plastic surgery practice in 1992, where she performed a wide range of face, breast, and body procedures. With her practice's recent transition to focusing on non-surgical care, Dr. Polacek now offers a comprehensive selection of minimally invasive treatments, including cosmetic injectables, CoolSculpting® body contouring, CO2RE® Intima vaginal rejuvenation, medical-grade skin care, and more. Dr. Polacek is available for interview upon request.
For more information about the Polacek Center for Plastic Surgery, visit polacekplasticsurgery.com and facebook.com/Polacek-Center-for-Plastic-Surgery-302016813683733.
Contact:
Polacek Center for Plastic Surgery
2000 Chapel View Blvd. #110
Cranston, RI 02920
(401) 331-0202
Rosemont Media
(858) 200-0044
www.rosemontmedia.com