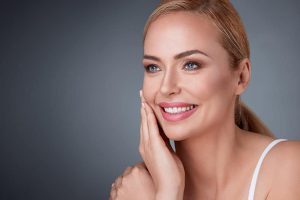 Going in for a consultation with a Plastic Surgeon and Medical Aesthetician is now quite commonplace. Thank Heavens for that! The stigma of having cosmetic procedures done are becoming a thing of the past. This is because the last few generations have had the Internet at their disposal, makeover reality shows on TV, social media, camera phones and celebrities coming clean about their own procedures.
For years, women have been fighting a losing battle. If you did not seek to get some "work done", then people would say you had "let yourself go". If you had a facelift or breast augmentation, then people would state that you were vain. You could not win!
It is refreshing to note that people feel much more comfortable today with the idea of cosmetic enhancements, particularly non-surgical procedures such as Botox TM, fillers, lasers and skin care.
n the last few years, I have found that many of my patients are quite savvy and well informed on the many types of non-surgical procedures we as Plastic Surgeons can now offer them.
Partners in Skin Care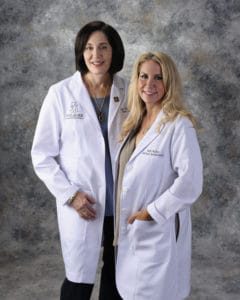 Throughout history, we've all heard about some great teams – Abbott and Costello, Sonny and Cher, Batman and Robin, and Fred Astaire and Ginger Rogers, to name but a few. The reasons these Dynamic Duos were successful is that they each had strengths that offset the other's skills.
Each of them alone were fine, but together they were unbeatable. Today, Plastic Surgeons and Medical Aestheticians are combining their skills to offer outstanding care to all their patients. I refer to this "Partners in Skin Care".
Aesthetician and Board-Certified Plastic Surgeon
I am proud to be a part of a dynamic duo. My licensed medical Aesthetician, Beth Walker, and I have combined forces to ensure that our clients get the best of our skills, knowledge and training.
As a Board-Certified Plastic Surgeon for almost thirty years and a Diamond provider for Allergan, my patients tell me they are thrilled with our incredible results from Botox TM, skin care and fillers. Therefore, more and more tend to steer away from "going under the knife" these days. It's all about having non-surgical options!
I take pride in the fact that my team and I ensure that our patients receive the best possible care during their procedures, while still maintaining safety and comfort.
Our talented aesthetician Beth has been in the Medical Aesthetics field for almost twenty years. Her extensive knowledge, combined with my medical training, provide our patients with the best possible regimen for all of their skincare needs. I find that leaning on the strengths of professionals will always give our patients their best, intended results.
Who Should You Visit Today for Injectables and skin care?
Do your homework before you decide to get "injectables" such as Botox TM, laser treatments, skin care and/or dermal fillers! What you need to know is the differences between consulting with a licensed medical professional such as a Board-Certified Plastic Surgeon or going to a local med-spa for the "best pricing" where you are unsure of their training or expertise. You also need to know the differences between seeing a Licensed Medical Aesthetician and an Esthetician. Although both professions are known as skincare specialists, traditional estheticians work in salons and spas, while licensed medical Aestheticians typically work in a medical setting with the guidance and supervision of a physician for safety. Our Medical Aesthetician can perform laser treatments, Medical-Grade peels etc., body contouring treatments…not just "facials". All of which contribute to outstanding results.
Skincare is Essential for Healthy and Youthful Skin
At the Polacek Center for Plastic Surgery, we truly believe that great skincare is essential for healthy and youthful skin. We offer leading edge treatments, such as Medical-grade peels, micro-needling and laser resurfacing. Along with our various procedures, our Aesthetician recommends medical-grade skincare products that can only be purchased by a physician's office. Between the procedures I provide through injections and contouring, and the treatments and products Beth provides, we believe we have a winning combination!
This leads me to discuss the differences between Over the Counter skincare products and Medical Grade products! Although medical grade skincare products are sometimes costly, investing in your skincare with a proven and effective product is worth every penny in the end.
Medical grade skincare products:
Are FDA Regulated
All the active ingredients are 99.9% pure
Are all formulated in a lab and highly tested for effectiveness
Must be sold under a doctor and prescribed by a trained/licensed skincare Aesthetician
Over-the-counter Skincare products:
Are sold by anyone
Are mass produced
Made with less science and more marketing
Fragrance and synthetics are the main ingredients
Have high levels of preservatives to maintain a longer shelf life
Have only trace amounts of pure ingredients
Women are starting their anti-aging treatments younger because they realize that preventing and maintaining is better than playing catch up later. I find that it's quite common for patients to say, "What can you do for me in the office, I don't want surgery."
We here at Polacek Center for Plastic Surgery are proud to be offering the following product lines:
Obagi Nu Derm – This product is designed to target skin damage at the cellular level, which results in improved skin health and appearance and aids in the reduction of future damage. This system benefits patients with facial aging, hyperpigmentation, melasma, acne, and rosacea. If you feel that sun damage, hormonal changes, stress, or environmental pollutants have caused your skin to prematurely age, then this line of products is for you!
SkinCeuticals – This comprehensive line of science-backed products aims to restore youthful skin and improved skin health. It is designed to prevent future skin damage, protects the skin, and correct any pre-existing damage.
SkinMedica– This skin care line is committed to advancing the science of skin rejuvenation through research and innovation. Their products work with your skin's natural healing properties to help you achieve transformative results from the inside out.
To learn more about Beth Walker and myself, please click on the following links from the website:
https://www.polacekplasticsurgery.com/about-us/plastic-surgeon/
https://www.polacekplasticsurgery.com/meet-the-staff/
So, if you would like to discover more about the best ways to care for your skin, the medical grade products we think would work best for your skin type, and the non-surgical procedures through injections; please contact our office at (401) 331-0202 to schedule your "Perfect Duo" appointment. Together, Beth Walker and I will coordinate a personalized skincare treatment plan for you. Let's work together to get you perfect, younger-looking skin today. You're worth it!