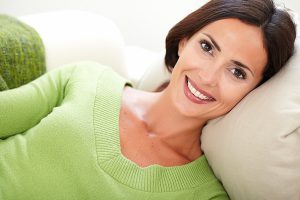 Ah, January! The month of New Year's resolutions and short-term solutions that include unattended gym memberships, crazy fad diets and more distracting office chatter of how everyone will make this their year to "change." Change is good and change is inevitable—but we are not the first to tell you that change comes from within! Rather than setting numerous, overwhelming goals that tend to cause anxiety rather than relief, take some time to target the areas of your life where you feel you want to make an improvement. Here we discuss some of our non-surgical ways to make you look and feel your best in 2019 and beyond!
Bettering yourself is always a wonderful long-term goal that requires small steps in a direction you are most comfortable with. Sometimes this starts with what we see in the mirror. Is your skin bothering you? Are you prone to bad breakouts even in your adult years? Maybe you want to stop hiding under so much makeup. Book a consultation to discuss your goals and options to make this the year you unveil your true skin and feel more confident without having to apply pore-clogging pounds of foundation! Medical-grade skincare products by Obagi® can help with correction as it is designed to be more potent and penetrate the deeper layers of skin from the inside out at the dermal layer where the collagen and elasticity are contained. All medical-grade products must undergo rigorous testing in clinical studies which include punch biopsies to support the claims that are being made about the products. Over-the-counter products do not conduct studies of research backing the claims.
Speaking of clear skin, we hope you'll consider adding the Vivace Experience™ to your calendar this year. Vivace results are so incredible you will want to be makeup free, and when you wear your makeup, you'll have a flawless no-filter complexion. It's the newest generation of microneedling! You'll alleviate wrinkles and fine lines, tighten skin, minimize pore size and improve skin tone and texture. The best part? Immediate results!
Maybe this is the year you soften your look and begin to turn back the clock in areas of your face that have lost volume and elasticity due to external factors such as sun exposure and aging. The years may have you looking tired even when you are getting plenty of rest, eating right and drinking lots of water. Don't we wish we could stop the aging process?? Medical-grade skin care and BOTOX® injections or dermal fillers with Dr. Lori Polacek can be the answer at the Polacek Center for Plastic Surgery. We can help you look refreshed with little to no down time! Dr. Polacek is a Board-Certified Plastic Surgeon that specializes in non-surgical rejuvenation. If you feel like over the years your face is looking gaunt and you seem to have lost volume in your cheeks, fillers such as JUVÉDERM VOLUMA® XC can make a huge difference. Lifting and contouring the cheek area will help to correct age-related volume loss and also can help in some cases with the appearance of under-eye bags/dark circles. Schedule a consultation today to determine what treatment plan involving medical-grade skincare, BOTOX Cosmetic and/or filler is the best for you. Your results will be the return of a more youthful, soft appearance in a subtle, natural and beautiful way.
If this is the year that you are committing to a healthier lifestyle that targets weight loss as an overall goal, add CoolSculpting® to your body sculpting regime. CoolSculpting is an FDA-cleared non-surgical fat reduction treatment. It freezes fat. Yes—you read that correctly! We encourage you to be eating right, exercising, and truly committing to your weight loss goals and CoolSculpting should not replace your efforts—it will enhance and help your efforts. This non-invasive procedure will help to contour your body and remove unwanted fat with no surgery. Love handles? Double chin? All can be minimized. Call us today to schedule your consultation to receive 25% off your treatment before April 1, 2019!
There are many ways to be the best version of yourself. We are here to help, and hope you use the new year as an opportunity to navigate the best options for you and know that it all starts from within. Love yourself and treat yourself this year!