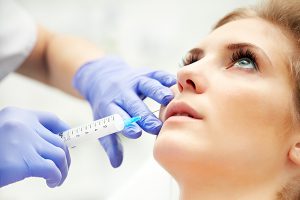 As we settle into the new year, with the holidays behind us and the snow still coming down, we start to get ready for the spring weather and the events that lie ahead in the months to come. Maybe it's your wedding—or maybe it's your grandchild's wedding. Are you representing your office presenting at a nation-wide meeting? Are you being interviewed on TV? Whatever the occasion, you deserve to look your best. We get lots of questions from our patients—whether it is the first time they are having an injectable procedure or if it is their quarterly or annual visit. Questions that pertain to the timing of your treatment is important. Skincare and your lifestyle all greatly contribute to receiving the best, natural-looking results.
1) BOTOX Cosmetic takes 2-3 week to take its "full effect"—schedule your appointment mindfully!
It's magic, it's liquid gold! Whatever you may refer to it as, it makes a BIG difference. So, if you know you want to smooth out some lines for a future event, give yourself some time to chat with our team about scheduling appointments that make sense in the context of your next event. Treatment planning is key. If you come into the office tomorrow and your daughter's wedding is next week, you won't see the effects of BOTOX injections just yet. It might make more sense to come in one or two months prior, with a 2-week follow-up with Dr. Polacek, where we are able to get a better sense of how the product worked for you, and if we want to add another treatment, or try some filler.
2) First-time filler? You may want more!
If it's your first time using dermal fillers, after discussing what is best for your unique face structure with Dr. Polacek, you may learn that with the right amount of treatment planning you are able to add subtle volume in areas, soften your appearance, and smooth facial wrinkles and folds.
3) Prevent bruising by eating pineapple.
Bromelain is a mixture of enzymes found in the pineapple plant. These enzymes may have anti-inflammatory properties and help reduce bruising and swelling when eaten. A few days before your appointment, drink plenty of water and eat pineapple. It helps!
4) Visit a highly qualified aesthetic professional to get the ultimate results!
BOTOX Cosmetic and fillers are fantastic, but sometimes the ingredient that is missing in a truly youthful, well-rested, healthy complexion is your skincare routine! Don't know where to start? Maybe it's time to introduce yourself to the amazing world of medical-grade skin care, lasers, and more. We believe in a combination of BOTOX Cosmetic, filler, skincare and lasers to achieve the result you are looking for.
5) Avoid dental work two weeks prior and two weeks after.
We are all about safety here—to avoid any infections, be sure you have not booked any appointments for any dental work within the vicinity of your non-surgical procedures. "Dental procedures done in the vicinity of dermal fillers may result in complications of the dermal fillers such as infections which may mimic a dental infection." [J Maxillofac Oral Surg]