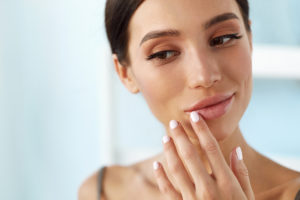 Whether you have naturally thin lips or they've lost volume over the years, you can achieve a fuller, more shapely pout with the help of JUVÉDERM dermal fillers. Dr. Lori Polacek at the Polacek Center for Plastic Surgery offers JUVÉDERM® XC and VOLBELLA® for a variety of lip concerns, such as thinning lips or perioral wrinkles (lines that form around the mouth). Composed of hyaluronic acid (HA), JUVÉDERM® fillers help restore lost volume, as well as create a boost in areas to produce an improved contour.
For patients wanting to achieve a more plump look to their lips, JUVÉDERM® XC may be recommended. This injectable can be used for lip augmentation, creating an increase in lip size, a more youthful-looking lip and an enhanced shape of the lip. Through a series of small injections, Dr. Polacek can help you achieve the fuller lips you desire while ensuring the most natural-looking outcome. To achieve optimal results, you may need multiple treatment sessions, which will be tailored to your unique concerns and the extent of your needs.
JUVÉDERM VOLBELLA® XC is commonly used for the more "aging" lip. VOLBELLA is used for the fine lines in the lips or the trim of the lip that we lose as we age. Most lip fillers last six months to one year. Follow-up treatments can also be scheduled to prolong the injectable's effects. To learn more about JUVÉDERM® for the lips, please contact our office at 401-200-4603 to schedule a personalized consultation with Dr. Lori G. Polacek, who is a Board-Certified Plastic Surgeon of almost 30 years.