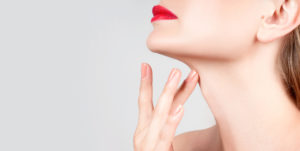 Even those who eat the healthiest diet imaginable and hit the gym regularly to maintain excellent physical shape can struggle with excess fat that collects under the chin. The fact is that the development of a "double chin" is an extremely common concern, and while weight fluctuations may play a part, genetic factors can contribute to its appearance, as well. In cases where a double chin is caused by an accumulation of excess, inelastic skin, a surgical procedure is typically the only effective remedy. However, when the condition is caused by excess fat, there are innovative treatment options that can reduce signs of a double chin without the need for surgical intervention.
Here at the Polacek Center for Plastic Surgery, we offer two of the most popular procedures designed to get rid of a double chin:
CoolSculpting®
CoolSculpting® is a way to reduce isolated pockets of fat under the chin that requires no needles, anesthesia or invasive surgery of any kind. A special applicator is placed in the targeted area, which will deliver controlled cooling energy into the skin. Essentially, the excess fat cells are cooled to the point of breaking down. Over the next few months, the fat cells naturally filter out of the body, ultimately reducing signs of a double chin and creating a more enhanced profile contour. Two or more treatments are required for all CoolSculpting® procedures.
KYBELLA®
One of the latest innovations in non-surgical aesthetic enhancement, KYBELLA® is quite a revolutionary procedure. This option is specifically designed to reduce the appearance of a double chin. KYBELLA® is an advanced injectable solution that is delicately administered directly into areas under the chin affected by excess fat. The solution works to destroy the targeted fat cells, which will then exit the body via natural processes over time. This can ultimately provide significant reduction in signs of a double chin and lead to a more contoured appearance in the area. KYBELLA® injections generally take only about 15 minutes to complete. Four-six treatments are recommended for the best result.
Would you like to learn more about our non-surgical options for double chin reduction? Please contact us today for additional information, or to schedule a consultation.